Yesterday the licensing man from Dundee Council went down the taxi ranks ordering saltires and yes stickers removed from the taxis. (would he have ordered No stickers removed as well? We can never be sure as there weren't any.)
Having missed the train to my Cupar meeting last night, I got in a taxi (it's not far) and the taxi driver was giving his side of the story. He said he told the council man that "There is an argument that he was within his rights to tell me to remove the sticker, but when he told me to take off my lapel badge, I told him that he was infringing my absolute right to freedom of speech under article ten of the European Convention."
This campaign has been the most uplifting experience imaginable. It will not be possible to put the people back in the box of media-induced apathy after this.
One of the most unexpectedly invigorating aspects of the campaign is that in packed town hall meetings, I have been sharing the platform with people who are not good public speakers. If that sounds paradoxical, it is because often they have never done any public speaking before. Yesterday in Cupar there was an excellent lady who works in the NHS who had a deep knowledge of its workings and of the threats from privatization of its services, including the mechanisms by which these privatisations were being advanced. She believed that after a No vote it would not be possible for the Scottish NHS to continue to be insulated from some of these trends, and she explained why she felt that.
There was no polish to her quiet delivery, but her heartfelt sincerity and the depth of her knowledge held the audience in intent silence. She had never spoken in public before. It was truly inspiring.
The substance of the campaign is people in local communities actually talking to each other about what is important to their communities and they way their society is organized. I have never seen anything to compare this to. No wonder the politicians have no idea how to counter it. The happy lack of hierarchical power structures in the campaign on the ground seems to relate to the fact that so many women are coming forward as speakers – for the third time, I was the only male on the panel yesterday.
Better Together have women too of course. Just in case anyone has been living under a rock and hasn't seen it, here is the Saatchi and Saatchi produced Better Together broadcast that set the campaign on fire. The many spoofs are great, but I think nothing quite equals the sheer comic genius of the original.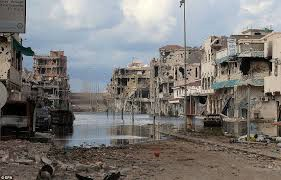 I have added this picture as pro-government commenters have started to come on the site with their ridiculous propaganda claims that NATO killed very few people in its 398 bombing raids on Sirte. What you see is just one street of scores in similar condition. You can believe your eyes or the propaganda.