I warned that the security services will turn to false flag events to discredit the SNP. I said this in my talk to Edinburgh SNP Club on 6 March, and repeated it on this blog last week. Well, it is starting.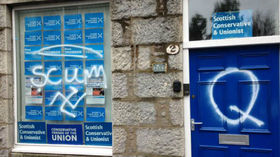 The reporting specifically blames nationalists. There is something delightfully old fashioned about MI5. Is spraying Q for Quisling not rather an obscure reference to today's generation?
[UPDATE: I had not taken on board that the racist comments made allegedly by an unidentified SNP supporter to Faisal Islam of Sky News occurred in the same town on the same day. That indicates to me a coordinated security service plan was in progress, and gives some idea how they are operating, probably in a mobile team. That two such improbable and unusual "nationalist outrages" should occur the same day and the same place confounds belief.]

A sweeping SNP victory on May 7 is considered enough of a threat to the United Kingdom for the security services to use up some assets. Long term sleepers within the SNP will now be activated, so expect to find one or two such events traced to apparent bona fide SNP members.
More importantly, a major thrust will be agent provocateur activity. Security service agents within the SNP will be trying to initiate and to egg on (yes, that is a deliberate and relevant Jim Murphy reference, think about it) impressionable members to vandalism or violence. Be very, very wary of such people and do not be tempted.
There are, 100% for certain, MI5 agents online posing as "cybernats" who will be quoted in the media saying outlandishly unpleasant and threatening things. We will also see more incidents like the Murphy eggs or the complete set-up of the "mob" jostling Miliband in the St James Centre, which by chance I witnessed.
The ridiculous "violent nationalist" meme worked well for the unionists in the referendum campaign, and influenced some older voters who trust the BBC and corporate media. So they will play it again for all it is worth. The worry is of course that some manufactured incident will go wrong and somebody will get hurt. The still bigger worry is that, as the security services get increasingly desperate as polling day approaches, they will manufacture a false flag incident in which people deliberately get hurt.
The best defence against that is for ordinary people to be wise to how the real world works. Social media is key. Tweet, facebook, blog, instagram or whatever else you can do to spread this.