I didn't really volunteer to fight the British police state, it came after me. But here we are, and here I am, in Switzerland, seeking the protection of the United Nations. I still don't actually know whether the terrorism investigation into me is focused on Palestine or on Wikileaks. It seems to be both and anything else they can get. My legal team is now active in Scotland seeking some kind of clarification and explanation, which will probably require a judicial review.
My experience of British airports being discouraging recently, I went by public transport from Edinburgh to Belfast. Arriving very late in Belfast due to the storm, I missed the last train to Dublin. Not wanting to stay in Belfast, I flagged down a taxi in the street and asked the driver to take me to Dublin. He did not wish to, so late at night. Then we realised we had worked in the same bar in Aviemore 45 years ago! I have always believed life is governed by forces we do not know.
We have sent a formal complaint to the UN about this bogus terrorism persecution, to add to the complaint about my imprisonment which is already under review.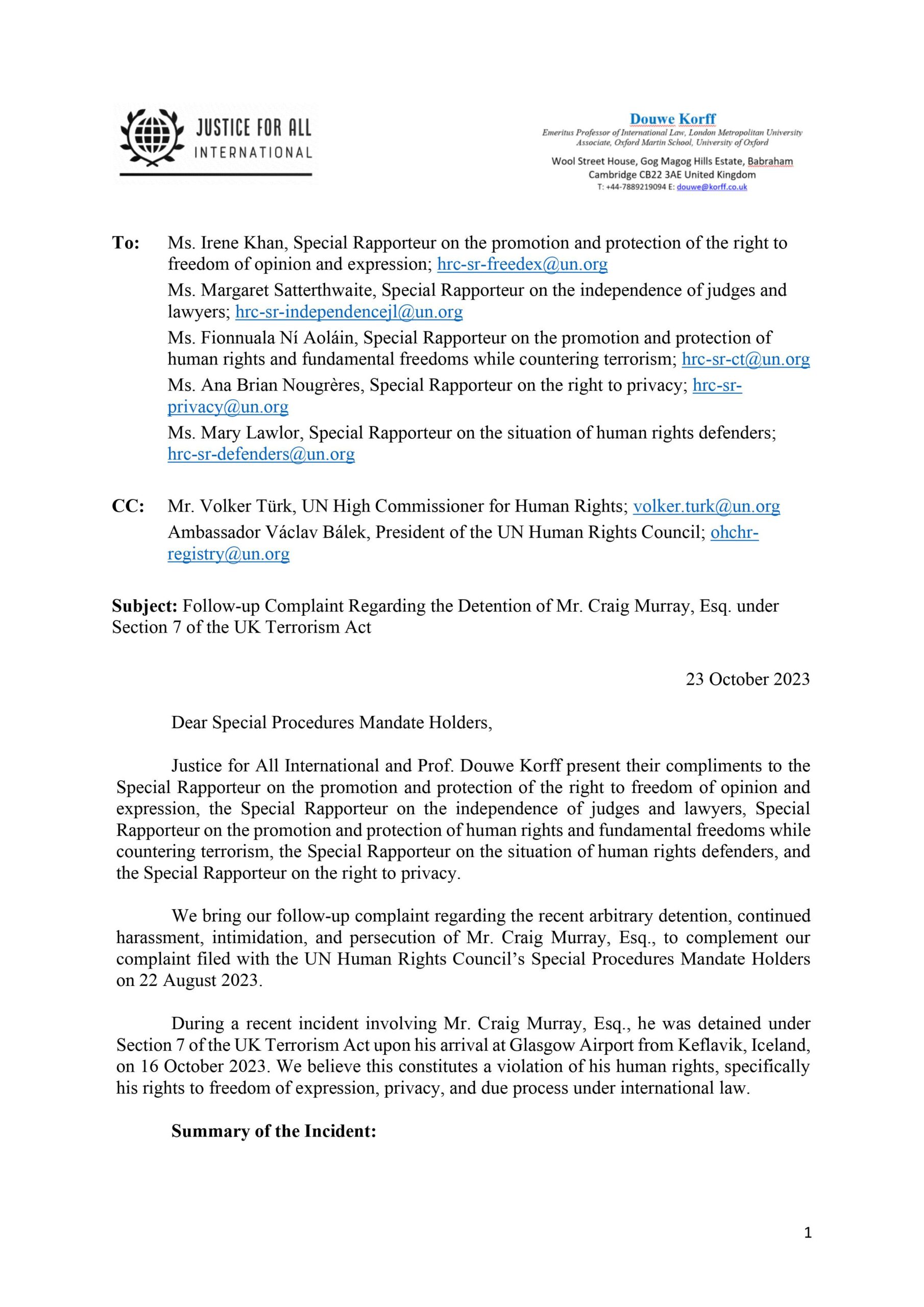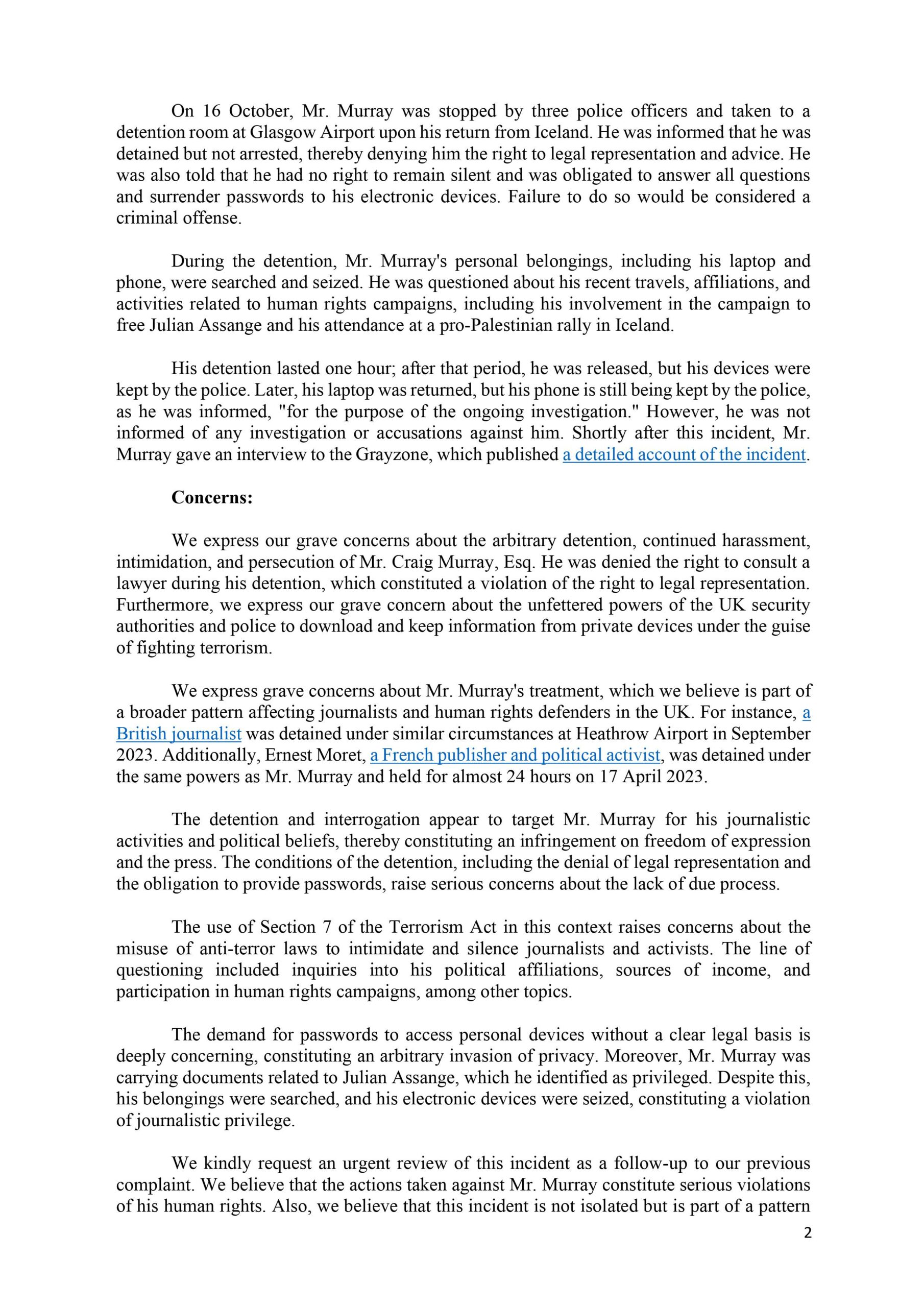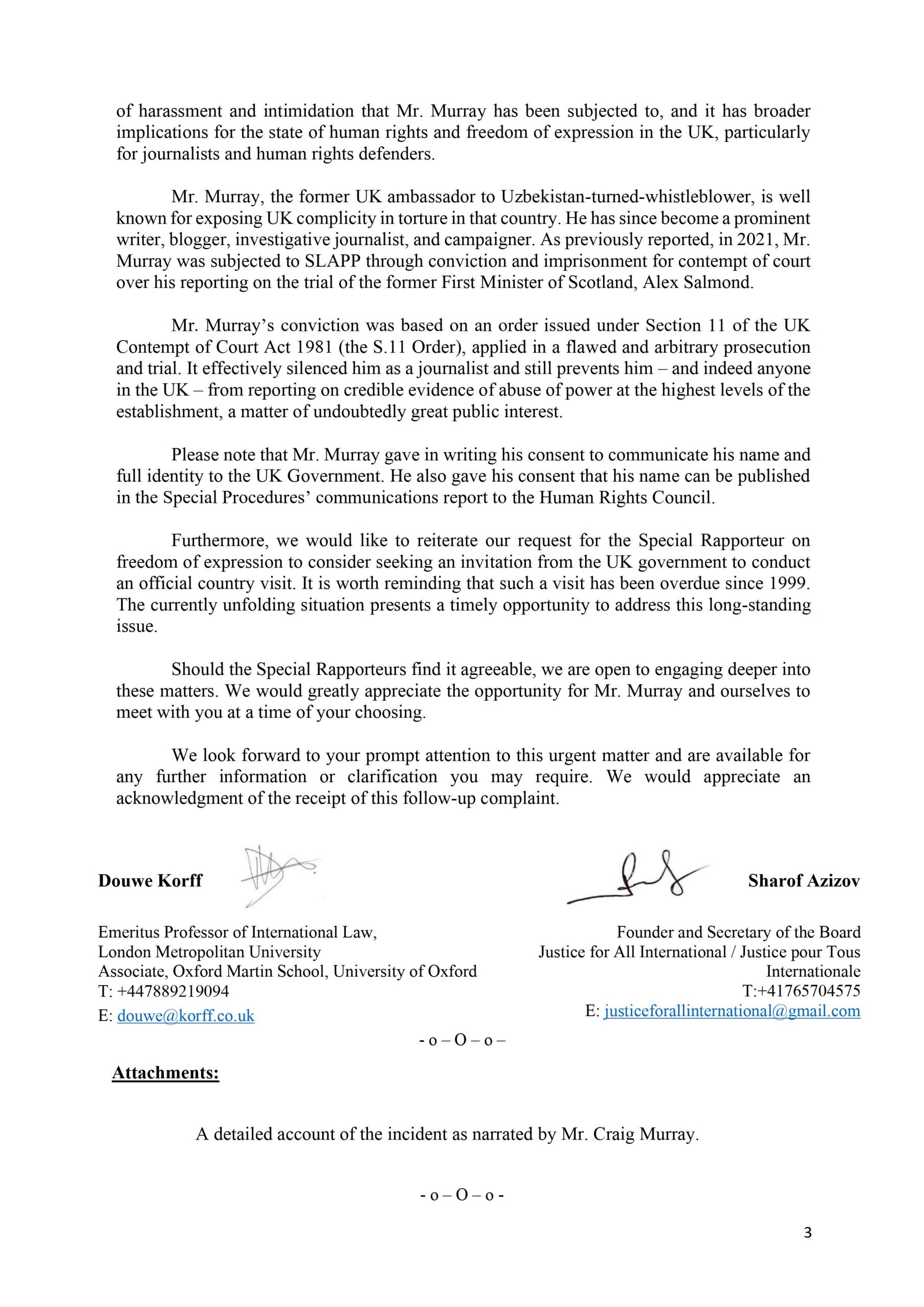 Two quick points to add.
This is the third time since my imprisonment on an outrageous contempt of court finding, that I have been harassed and interviewed by the police. The first was over the leaking of Peter Murrell's WhatsApp message to Sue Ruddick instructing her to put pressure on the police to act against Alex Salmond. The second was over Stewart MacDonald's leaked emails. In neither of these incidents was I charged with any crime, nor could the police even tell me what offence they were investigating. And now this "terrorism" utter nonsense.
The second point is that the abuse of special anti-terrorism powers at ports in order to seize all papers and communications of journalists is becoming commonplace. Three other journalists I know personally – Vanessa Beeley, Kit Klarenberg and Johanna Ross – have suffered this. There are many other examples, most notably David Miranda. This really is police state stuff, yet there is an extraordinary lack of outrage from human rights organisations and the mainstream media.
So I now have this new fight. Or I should say we now have this new fight, because the fight can only happen at all with financial support from the amazing readers of this blog. You have seen me through so much, and I am very grateful.
But I honestly do believe that the fight is not for me, it is for freedom from an ever encroaching police state and from a political class trying to enforce a monopoly of information to the public.
Click HERE TO DONATE if you do not see the Donate button above
Alternatively:
Account name
MURRAY CJ
Account number 3 2 1 5 0 9 6 2
Sort code 6 0 – 4 0 – 0 5
IBAN GB98NWBK60400532150962
BIC NWBKGB2L
Bank address Natwest, PO Box 414, 38 Strand, London, WC2H 5JB
Bitcoin: bc1q3sdm60rshynxtvfnkhhqjn83vk3e3nyw78cjx9
Ethereum/ERC-20: 0x764a6054783e86C321Cb8208442477d24834861a
It would be extremely helpful if you could subscribe to this blog, even if only for £3 a month. Less than 0.2% of readers subscribe, and that does make it difficult. You can use the Paypal button below or standing order to the bank details above:
Choose subscription amount from dropdown box:
View with comments
---